ב"ה
The most comprehensive and advanced Jewish calendar online. Features a brief summary of key events in Jewish history, laws and customs, Shabbat times and more.
The weekly Torah reading - for all ages
A comprehensive presentation of the weekly Torah reading, including translations, summaries and overviews, Rashi in English, and anthology of classical commentaries, essays based on the teachings of the chassidic masters, a wide selection of contemporary "Parshah Columnists," audio classes and a "Family Parshah" section for kids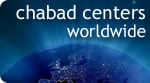 The Jewish community & synagogue directory spans 100 countries and all 50 states. Wherever you are, find kosher meals, prayers, & holiday celebrations at a welcoming Chabad House nearby.
Ideas, Beliefs & Faith in Judaism
Essays, insights and letters, stories and first-person accounts, and an online biography of the Lubavitcher Rebbe, Rabbi Menachem Mendel Schneerson, of righteous memory